Welcome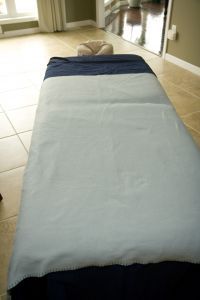 Welcome to my Website! I am a professional, licensed massage therapist who is trained in a variety of modalities. You can click on the "Services & Rates" page to learn more about the modalities I offer, and various techniques I use in my work.
I practice massage in the homes of my clients, also known as "mobile massage" or "house calls." I am willing to travel within 40 minutes of Carlisle, PA. Please have available a space big enough for my 30"x73" table with at least 2 feet of space around it on all sides for me to safely work. I DO NOT take my equipment up staircases at this time. A few front porch steps is okay.
I can provide Chair massage or table massage for events of all sizes. Please contact me to setup a contract.
TO BOOK:
If you would like to set up an appointment, click on "Contact Me" and send me a message. I will call or email you back to confirm the details of your appointment, and answer any questions you might have.
You may also send a message to my Facebook page, or call 717-486-0274.
Current Policies and Instructions for home visits:
Clients are to shower, take temp, and wash hands before I arrive.
Contact to reschedule if temp is above 99 or any cold or flu symptoms are present.
If you get any of the covid vaccines or boosters, please wait 7 days to have a massage.
Please have a space cleaned and clear for my table, which is the size of a twin size bed, plus at least 2 feet of space on each side around if for me to be able to work.
All clients will fill out health history and consent forms before the appointment begins.
I try to arrive 5-10 minutes early to setup while clients fill out forms. I send a reminder message or call the morning of day of appointment. I accept payment at the appointment by cash or card only.
If you would like music during your massage, you are welcome to use your own through whatever device (phone, tv, etc), and it really does not matter to me what you listen to. I tend to tune things out while I work. Friendly pets can be out as long as they stay out of the way. I have no pet allergies.

Thanks for visiting, and have a great day.
Jillian Breneman, LMT, CPMT (#MSG007989)
***You can also visit my Facebook page at facebook.com/massagebyjillianblmt for more info and specials.
Massage Prices:
$70 - 60 Minutes
$85 - 75 Minutes
$100 - 90 Minutes
$150 - 2 hrs (This duration includes hot stones and aromatherapy!)
hot stone add-on $10
aromatherapy add-on $5
Also Available: Seasonal Body Scrub with warming wrap - $50 (Includes scalp and foot massage)
*Ask about current selection of scrub scents and benefits.
GIFT CERTIFICATES are available for purchase!
You may easily order them online at https://jillianbrenemanlmt.square.site/